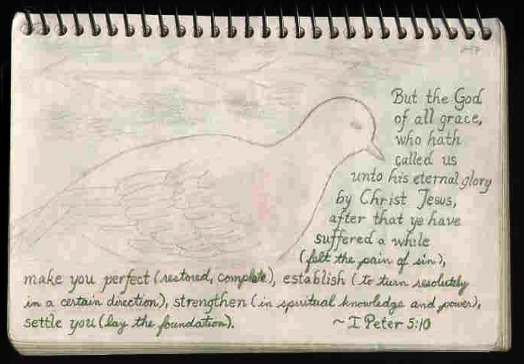 But the God of all grace, who hath called us unto his eternal glory by Christ Jesus, after that ye have suffered a while (felt the pain of sin), make you perfect (restored, complete), establish (to turn resolutely in a certain direction), strengthen (in spiritual knowledge and power), settle you (lay the foundation).

~1 Peter 5:10

Maturity

         The Lord has given me a picture in my mind of the mature Christian woman I would like to be. The dove reminds me of the characteristics I would like to have.

         He has given me some Godly examples of those traits. I'd like to have Mrs. Blaker's joy and be a prayer warrior like her. I want to have Mrs. Gergeni's ability to love those who are less than loveable, Mrs. LaMantia's tact, Mrs. Schultz's steadyness and consistency, Mrs. Weed's ability to bring order to chaos, and Mrs. Blackwood's wisdom.

         The Lord has also shown me that those things don't come by trying to get them. It is the Holy Spirit that gives those qualities as a result of the experiences of life, usually the hard things in life.