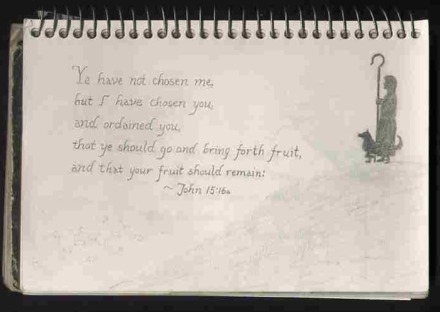 Ye have not chosen me, but I have chosen you, and ordained you, that ye should go and bring forth fruit, and that your fruit should remain:

~John 15:16a

Lass

I read a story about one of Philip Keller's sheep dogs. It is called Lessons From A Sheep Dog. He told about reading an add in the paper. A lady wanted to give away a border collie. When he went to pick up the dog he found that she was vicious. Keller decided to take the dog and see if he could help it.

He named the dog Lass. He was gentle and loving toward Lass but she would not respond. She would not even eat. Finally he decided to release the dog.  He continued to put food out for her. One day while Keller was looking over his sheep he realized that Lass was sitting on a rock outcropping watching him. Time passed and one day as he was watching his sheep, he had his hands behind his back. He felt something wet in his hand. Kelly came up behind him and put her nose in his hands.

Kelly became Keller's best sheep dog. She was very loyal to him. She did have one problem though. In the evenings around the fire, she liked to chase the sparks. No matter how hard he tried, Keller could not break her of this habbit. She wasted a lot of energy and sometimes her fur would catch on fire because of the burning embers.

Kelly's story reminds me of my life. How God patiently drew me to Himself. How He loved me even when I was snapping at Him. It also reminds me about the habits that I have that hinder my effectiveness for the Lord.