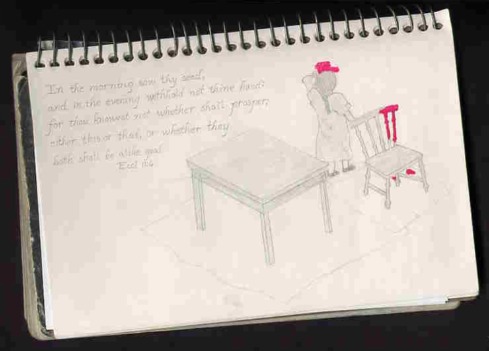 Helping

Ding Tuling, one of my chalk art teachers, told us about how he made a little table and chair set for his little girl. She wanted to help him paint it so he got her all dressed up in paint clothes. He was going to paint the table and she was suppose to paint the chair.

He said that really she was no help at all. He spent more time fixing her drips and missed spots than he spent painting the table. At one point he turned around and discovered that she was painting the wall. He said that in the time it took him to get the paint off the wall, he could have been done with the whole set. But he said that he would not have deprived his little girl of the joy of helping him for anything.

God does not need our help either but He wants to bless us with the priveledge of "helping Him." All the while He is coming along side of us fixing our mistakes.

In the morning sow thy seed and in the evening withold not thy hand; for thou knowest not whether shall prosper either this or that, or whether they both alike shall be good.

~ Ecclesiastes 11:6