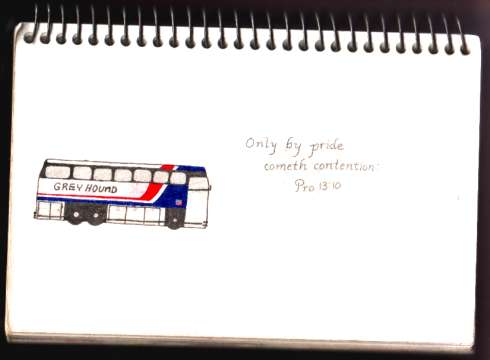 Only by pride cometh contention ~ Pro 13:10

I was traveling from Indianapolis to NY by bus. I had done this several times but this time I had a friend along. We were going a bit of a different route so she could go to her families' house in PA. I wasn't as familiar with this trek so at each station I asked at the desk, where our bus would be stationed.

At this particular depot. we sat right in front of where the bus was suppose to be till ten minutes after the bus was suppose to depart but there still was no bus. I asked another bus driver about it. He looked at the ticket, swore a bit, told us to run in to get our tickets changed because his bus was the last one out in that direction.

The ticket agent wasn't in any hurry so the bus driver came in and swore at us some more. By the time we made it to the bus I was boiling inside. As we rode, I started thinking about getting the driver's name and badge number. I figured it was my duty to report such a rude driver. How dare he treat customers that way. I was wondering how many other passengers he treated this way.

Then the Lord brought Proverbs 13:10 to mind. "Only by pride commeth contention." I realized that my anger was not righteous. It was stinking pride. I was mad because he stepped on my toes. I was not seeking to do anything to help him with his anger. What if he had a family. What if I reported him and he got fired.

By the time we had our first rest stop the Lord had changed my heart toward this man. I felt sorry for him. When we got off the bus, his whole attitude had changed. He was very nice to both of us, and went out of his way to make sure we were comfortable. (I thank he realized what he had done.) This opened the door for my friend and I to talk to him about the Lord. What an opportunity I would have missed if the Lord had not showed me my pride.